Committee Members Needed!
The 2021 AGM for the Merimbula Jazz Festival will held on Friday 26th November 2021, starting at 10 am (venue to be advised – so check back on this page).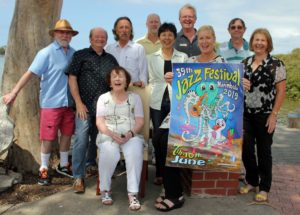 2022 is going to be a big year for the Merimbula Jazz Festival, which will be our 40th consecutive year, but delayed by a couple because of COVID!
NOTE: Only the fully vaccinated may attend the AGM in person. All papers will be published here ahead of the meeting, so that any person not able to attend can be informed about the business of the meeting. If you wish to comment on any item of business, please send us an email.
AGENDA
Apologies
Minutes of 2020 Annual General Meeting
Election of Committee Members
A few current committee members have indicated that this may be their last event, as they have now organised many festivals, and they feel it is time to step down. Fresh faces will be needed to carry us into future years. If you have an interest in keeping the Festival alive, please consider joining the Committee this year, to learn what is required under the experienced guidance of the current committee. It really isn't as much work as you think, and the rewards are enormous.
We would love to have new members join our committee. Please consider your attendance and nomination – remember that no committee means no festival. If you cannot make the meeting you can still put in a nomination.
Give me a buzz if you want to chat before the meeting (Adrian, 0419 557 800).
Hope to see you there!