42nd Merimbula Jazz Festival (7-10 June 2024)
41st Merimbula Jazz Festival
The 41st Festival was a great event. Over 500 musicians came together in Merimbula to entertain rooms packed full of enthusiastic Jazz Lovers. The musicians love to come together in our beautiful town to play Jazz, but also they also come to catch up with old mates, meet new ones and encourage the musicians of tomorrow. And what a fabulous event it was!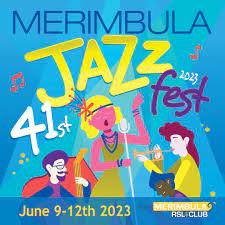 The Jazz Committee would like to thank the many volunteers, sponsors, musicians and their partners for their contributions. The Rotary and Lions Clubs helped on the doors and with the stage management and the Down South Jazz Club ran a very efficient Jazz Office. Finally a big thank you to the Merimbula RSL and Club Sapphire for their support.
After presiding over the success of the Merimbula Jazz Festival, Cherie Glanville has decided to resign from the Committee and have a break. Cherie stepped up and took on this position as President in December 2022 following the sad departure of Kevin and Aileen Walsh.
The MJF Committee would like to thank Cherie for her hours of hard work invested in making this event a success and wish her well in her next venture. She deserves a well-earned rest following upon a very hectic but very productive six months.
We look forward to seeing you all in paradise for the 42nd Festival
Chris Ralfs (President) on behalf of the MJF Committee