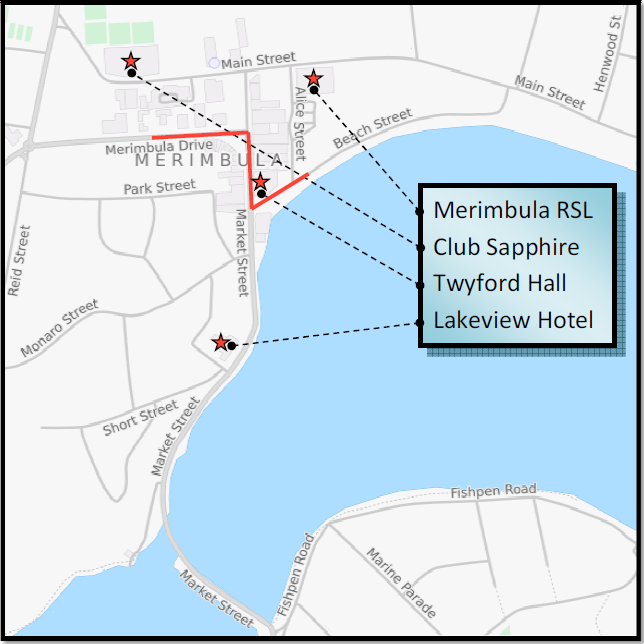 Merimbula RSL
The RSL Function Room was completed just in time for the 25th MJF. This venue is well suited to big bands and a mix of swing and trad. A great place to dance along to the music or just sit back and enjoy it and the view across the lake.
The Maple Leaf Room has been utilised for a number of years, but the 25th MJF saw a change in its format with it becoming the "Ragtime Corner". This popular style is eminently suited to this venue.
Club Sapphire
The Audi, as it is known locally, is the Auditorium at Club Sapphire (aka the bowlo). This venue accommodates the largest of bands with ample seating and a good sized dance floor.
The Sapphire Room upstairs at the bowlo is home to the Down South Jazz Club, and is a great venue for those intimate Jazz Nights that the DSJC is well known for.
Twyford Hall
Twyford Hall is the "home" of the Merimbula Jazz Festival, having been the heart of it since the very first Festival in 1981. In the past, when it was the only venue, Twyford Hall was often packed to overflowing with beer awash on the floor, cigarette smoke creating a foggy blanket, Terry Hayes conducting it all and trad jazz literally lifting the roof off. Musos and Jazz Lovers who attended those early years remember the nights with affection, although perhaps with a fuzzy memory(?).
The hall is still the meeting place for musos on the Friday night and home to Trad Jazz at the Merimbula Jazz Festival.
Lakeview Hotel
The Lakeview Hotel has been a venue for a number of years now. Renowned for its fantastic view over the lake and good food, the Lakeview is the place to hear modern and mainstream jazz.
Facilities supplied at venues for musicians
Click here to find out what is provided