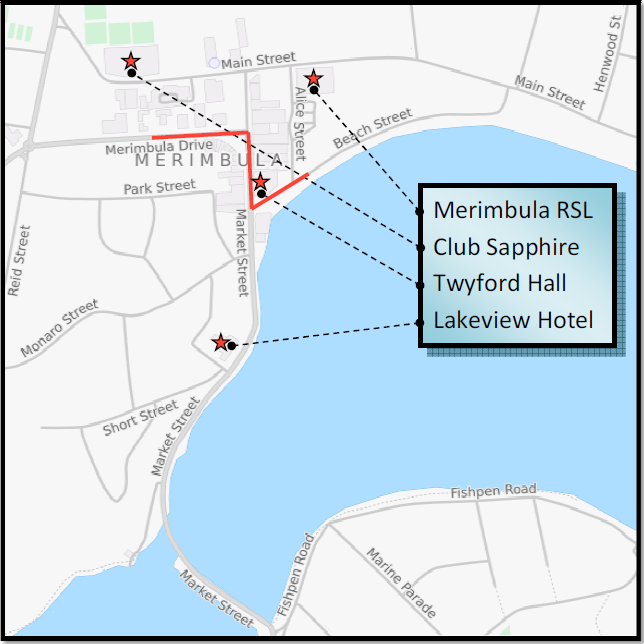 Jazz Office – New venue for 2023
The Jazz Office is the place to buy a Festival Pass, pick up pre-paid Festival Pass badge or programs, buy a raffle ticket or 10, and catch up with jazz friends old and new! Come and say hi!
The Jazz Office for 2023 will be based in the Community Hub in Centrepoint Arcade, Market Street. Look for the black and yellow Jazz Office flag on the Market Street footpath. Then follow the music to our Office, located next to Audica and the Merimbula Visitor Information Centre. There's plenty of parking, and public toilets, behind the Visitor Information Centre in Park Street. Alternate parking is on Beach Street.
Jazz Office Opening Hours
The Jazz Office will only be open Thursday, Friday and Saturday on the weekend of the festival.
Thursday 9am – 5pm           Friday 9am – 9pm       Saturday from 9am – 10am …closed for the official Festival Opening in Spencer Park… then reopening from 11.15am – 3pm
If you're after an individual session pass, these can be purchased on entry at our jazz venues.
Merimbula RSL
The RSL Function Room is well suited to big bands and a mix of swing and trad styles of jazz.
The Maple Leaf Room is located downstairs by the back carpark. With it's beautiful grand piano, this intimate venue is ideal for mainstream jazz and an intimate sound.
Club Sapphire
The Audi is the Auditorium at Club Sapphire (also known as The Bowlo). This venue accommodates the largest of bands with ample seating and a good sized dance floor.
The Sapphire Room upstairs at Club Sapphire is home to the Down South Jazz Club. During the festival it's a great venue for larger bands and big audiences with a good sized dance floor.
Twyford Hall
Twyford Hall is known as the "home" of trad jazz at the Merimbula Jazz Festival. Twyford was the first jazz festival venue  in 1981.
NOTE: The Hall got a major facelift in 2022. All entry is now via Beach Street.
Lakeview Hotel
The Lakeview Hotel is renowned for its fantastic views over the lake and good food. It is the place to hear modern and mainstream jazz.
Musicians click here to find out what facilities are supplied at the venues.