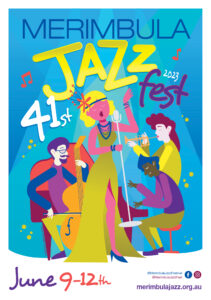 2023 Festival colours
Yellow, Pink and Blue on White
Welcome to our newsletter for the 41st Merimbula Jazz Festival. Held every June long weekend, the 2023 dates are 9-12 June. The Festival will be held across a range of Merimbula venues, all within easy walking distance of each other.
Our website will provide you with all the information you need to register – whether you are a band leader, musician or jazz lover.
Yours in Jazz,
MJF Committee